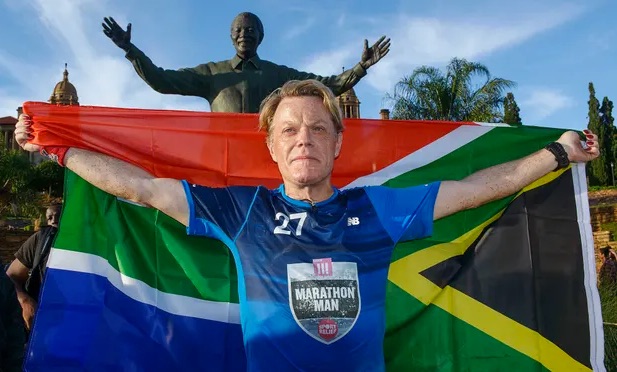 If anyone deserves an honour for services to charity, it's comedian Eddie Izzard. In my opinion, at least a knighthood. The British honours system has bestowed titles on some dubious characters, but here is one who is worthy.
In 2009, with no prior experience, Eddie ran 43 full marathons across Britain in 51 days for Sport Relief, raising £200,000 for projects benefiting people in Britain and across the world. He took Sundays off.
In 2016 Eddie ran 27 marathons in 27 days to acknowledge Nelson Mandela's 27 years in prison. Again, he ran for Sport Relief, but in South Africa's searing heat. He was hospitalised on the fifth day, then ran two consecutive marathons on the 27th to make up for it. He raised well over a million pounds for good causes.
In February 2020 Eddie ran 28 marathons in 28 days through every EU capital, raising funds for Unicef's work with child refugees and other projects promoting common humanity. He began and ended in London, where as an afterthought he ran an extra marathon to make it 29. He called this 'a salute to humanity at a time of great division', which it certainly was.
Now, Eddie's planning 31 marathons for the 31 days of January 2021, with a live-streamed stand-up comedy gig after each. He's again raising money to support disadvantaged and vulnerable people, this time, due to Covid, on a treadmill. He reckons a marathon takes him six hours, so that's nearly eight 24-hour days.
I've just seen Eddie on TV, wearing a cap bearing the slogan 'Make Humanity Great Again'. He says every marathon will be themed around a different city and is inviting supporters and fans to join him, running with him live. "Let's make even stronger connections across the world – this is a run for hope", he said. You'd have to be pretty mean-spirited not to see the merit in that.
In January, each of Eddie's treadmill marathons will immediately be followed by a one-hour stand-up comedy performance, 'Eddie Izzard: Still Standing', streamed live from Riverside Studios in West London. Advance booking details are available on the Riverside Studios website.
Eddie Izzard is an actor and comedian who takes a very active interest in politics. I've seen comments online saying he has no place in politics—a comedian should stick to what he knows. But why? Our current illustrious leader was once just a journalist.
Her Majesty's Cabinet now consists of two journalists, two hedge fund managers, four lawyers, one: public relations consultant, army captain, economist, chartered accountant, management accountant, chemist, pottery manufacturer, fruit farmer, auction house director, website marketer, private primary school provider, tent-hire and self-storage company owner, chartered surveyor, free school charity director, PR man, market researcher, and a former insurance clerk. There is no real comedian.
If he doesn't kill himself on the treadmill, I hope to see Eddie at least get a gong. The Order of the Garter would work.
There is a crowdfunding page for Eddie's January marathon challenge here.