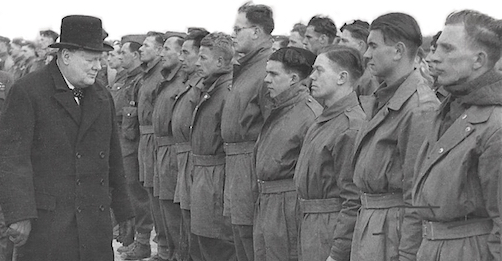 A grand British deception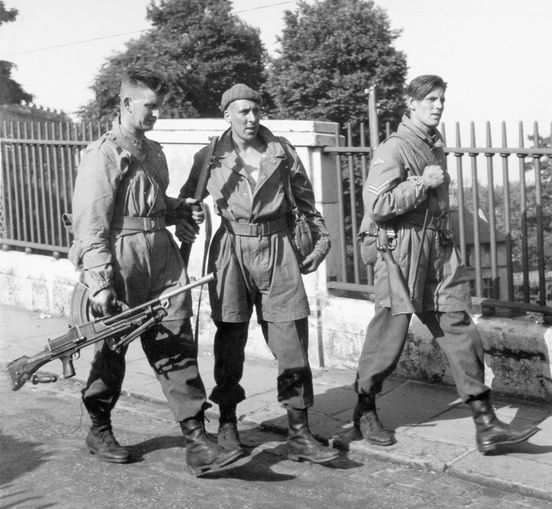 Pictured, right, are members of 'L' Troop, 11th SAS Battalion, later to become 1st Parachute Battalion, the founding battalion of The Parachute Regiment. This official War Office photograph by Lieutenant L.A. Puttnam was taken on the day they stormed and took Norwich Castle as a training exercise in 1941. It was subsequently published in the British press to announce the coming British paratrooper. Corporal Reg Curtis is on the right. In the centre is Private Jim Crabtree, who later died beside Reg, killed by a mortar round, at the battle for Djebel Mansour in Tunisia in 1943. Reg chose not to write about this incident in his book, The Memory Endures. On the left is Private Fred Cutting whose fate is unknown but he is not believed to have survived the war. Various British press articles came out in the 1940s with headlines such as 'Our paratroops are supermen' and 'Britain's human bombs'. One entitled 'I am a Red Devil', with an account from Reg, still featured this image when they were fighting as 1st Para in 1943.
The attack on Norwich Castle was one of many such exercises during their unorthodox early training in Britain as the 11th SAS Battalion. Completely unannounced, they would assault Regular Army units, the Home Guard, Police stations, even the Military Police, 'to sharpen us up and to keep them on their toes', as Reg put it. To be ordered to do this in a time of war would, in itself, have been dangerous but these few men were to be the first of Britain's elite troops. They may have been called the 11th SAS Battalion but the designation 11th, amusingly later described as a typing error, was simply a ruse to fool the enemy. The Special Air Service was otherwise a phantom force imagined by the War Office. It would be almost a year before David Stirling started the unit that grew into today's SAS. Even then the subterfuge continued, as Stirling's small unit was labelled 'L' Detachment, Special Air Service Brigade, when no such brigade existed. There was no connection between Stirling's men and 'L' Troop of the 11th SAS Battalion. The Special Air Service was a grand deception.
Reg writes of the attack on Norwich Castle in The Memory Endures:
"Another interesting scheme, involving a drop, was the capture of Norwich Castle. After the drop, everyone mustered in their respective troops and sections and we set off in various ways for the castle. My section of 'L' Troop, which included Guardsmen Butcher and Crabtree, decided to commandeer a bus. Turfing off the reluctant bus driver and conductor, who had to be forcibly removed, we lay low on the floor of the bus and sped a little faster through the town than a bus normally does. As it was not exactly a bus route we were on and half of Norwich would soon notice, we thought it best to change tactics. Dumping the bus, we made our way through back alleys, gardens and side roads to avoid the main road. Then our lead scout came belting back to inform us with delight that there was an unattended ambulance around the corner, just waiting to be used for something or other. What luck!
"Randal, an Irish lad, slipped into the driver's seat while the rest of us opened the rear doors and made ourselves comfortable inside. He started the engine with a key left conveniently in position. 'Look sharp, Paddy', someone whispered as he fought with the gears—he'd only ever driven a tram before. As two dismayed ambulance men came running out of a building, we lurched forward and tore off, some of us adding insult to injury by giving the victory sign! We could not dally too long as the authorities would soon be on to us. More than once we were flagged down but simply drove on. After a while, the castle loomed a short distance away and I could see other members of our 'L' and 'H' Troops getting ready for the final assault. Captain Bromley-Martin was already at the gates with a section of 'L' Troop. Parking the ambulance in a side street, we doubled off to join the remainder unopposed. We took the Castle."
The Memory Endures
The Memory Endures by Reg Curtis is available direct from Pilots Publishing, established in 2014 to provide an imprint for the book. It was Reg's wish to support soldiers who may be experiencing circumstances similar to his own, following the amputation of his right leg after the Battle of Arnhem in 1944. Before he passed away in January 2016 Reg bequeathed income from The Memory Endures to the Parachute Regiment and Airborne Forces Charity 'Support Our Paras', and in his memory all profits go to the Charity. This will be continued by his family for as long as The Memory Endures remains in print. The current edition has a foreword by the Charity's CEO Stephen Cooper and at the time of writing one thousand copies have been sold.
Book details are at: pilotspublishing.co.uk/the-memory-endures