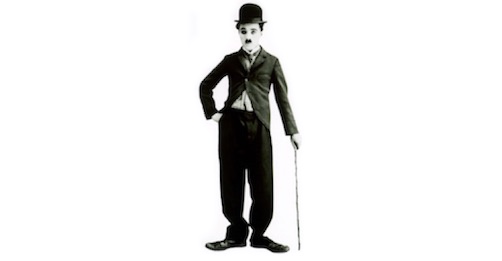 If ever there was a real rags-to-riches story, the life of Charlie Chaplin is it. From London workhouse boy to global superstar, he was one of Britain's most successful sons. Charlie died on Christmas Day in 1977. It's a good day to remember him.
I saw Charlie for the first time at primary school in the 1960s, when a man with a projector and screen came to show us a collection of short silent  movies in which he played the Tramp. We loved him.
He first played his famous character in 1914 at the age of 25. All his short films were made before 1922, so the handsome young man in this picture, taken in about 1920, was the real Charlie who made us laugh.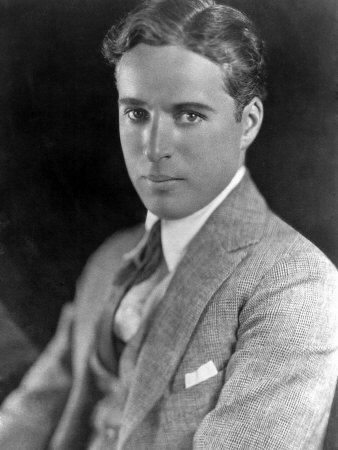 Charles Spencer Chaplin was born in Walwarth in South London on 16 April 1989, the son of two music hall entertainers. They separated and he stayed with his mother. She was committed to a mental asylum, where she eventually died. Charlie was sent to live in a workhouse twice before he was nine years old and also lived briefly with his father, a chronic alcoholic, who died when he was 11. Life could not have been much harder for a boy.
Remarkably, despite his difficult childhood circumstances, Charlie began to act from a very young age. He said he first performed at the age of five. By the time he was ten he was touring English music halls as a member of the Eight Lancashire Lads, a clog-dancing troupe. He was with them for two years.
By the age of 16, Charlie had already toured in Britain three times as a solo performer and starred in a West End show. He joined a circus and became its star attraction. By 20 he was starring at the London Coliseum. At 21 he was touring North America, where he was described as one of the best pantomime artists ever seen.
Charlie signed with Keystone Studios in California to make his first films in 1914 and only a few months later was directing them himself. He developed the Tramp persona for his second film and every aspect of his work began to come under his control.
Short films were made at an astonishing rate, a new one every three or four weeks. Before long Charlie was acting, directing, producing, writing the scripts, and writing the scores. He moved into full-length features, and then from silent films to 'talkies'.
Charlie's portrayal of the Tramp continued into his feature films. One in particular shows him at his finest. City Lights was the last silent movie he made and tells the story of the Tramp's love for a blind flower girl and his efforts to raise funds for her sight saving surgery. Here is the beautiful final scene. As usual he composed the music.
Charlie's body of work was vast. His films became increasingly political, which ultimately hindered his career. The Great Dictator, released in 1940, boldly satirised Adolph Hitler and opposed the rise of fascism. It was well received and a box office hit but also drew criticism from some quarters.
The FBI began gunning for him and when he dared criticise the excesses of capitalism and argue against war in a film he was swept up in the paranoid purges of McCarthyism and accused of being a communist. He left the US in 1952 for a premiere in London and was banned from coming back. It was 20 years before he returned one last time to accept an Academy Award.
Charlie Chaplin was loved across the world and his Tramp was perhaps the most widely recognised character of all time.  His personal contribution to the development of the film industry was incalculable. He received many  awards and honours, and in 1975 was knighted by Her Majesty the Queen at Buckingham Palace.
Remembering Sir Charlie Chaplin, who passed away on Christmas Day 1977, aged 88.