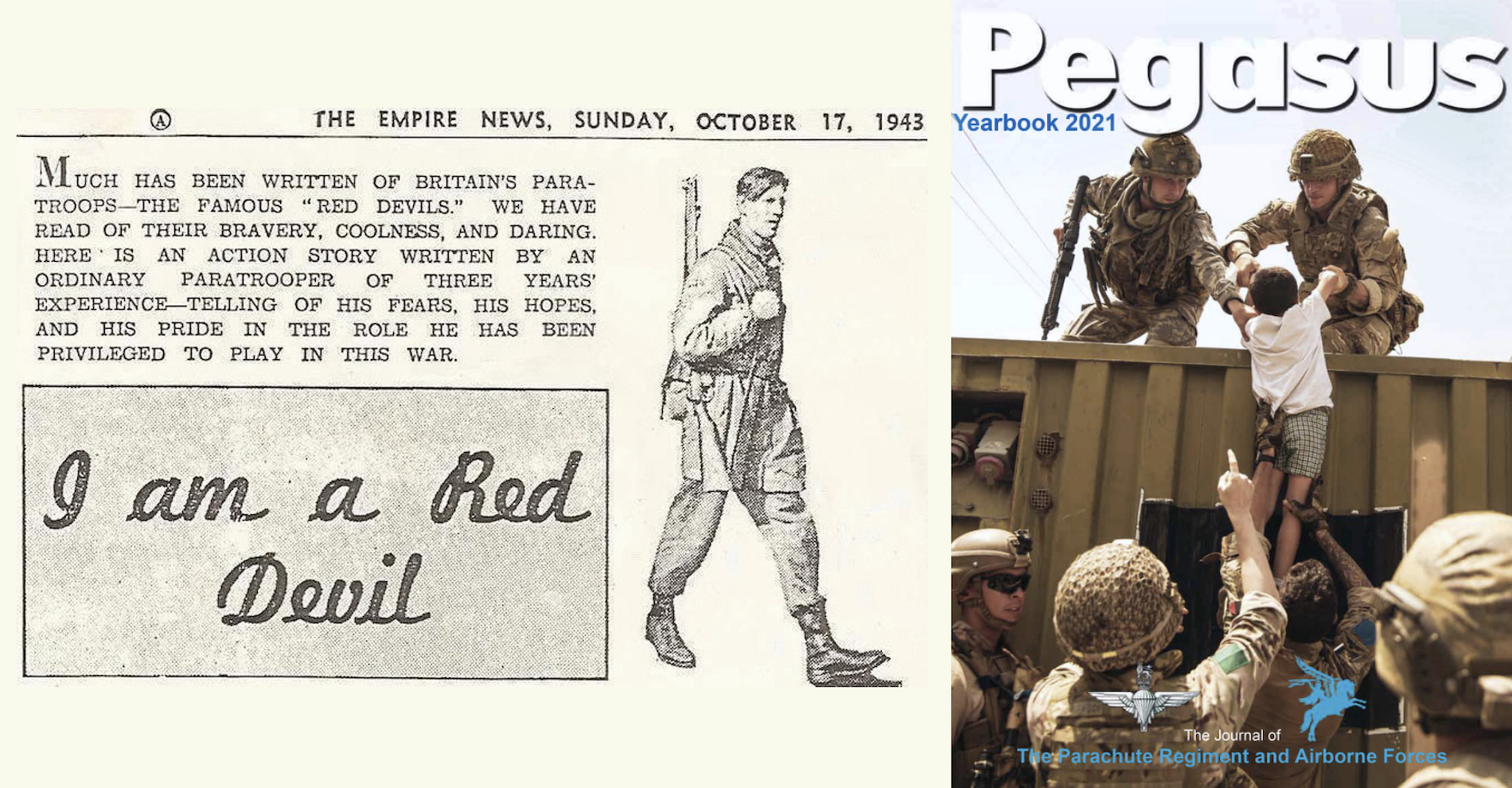 Reg Curtis, 1st Parachute Battalion
I have no doubt that my late uncle Reg Curtis, a founding member of the Parachute Regiment during WW2, would be more than pleased to be remembered in this year's Pegasus Yearbook, The Journal of The Parachute Regiment and Airborne Forces. Of all the publications in the world I am sure that Pegasus would be his choice.
I was grateful to be invited to write an article about Reg for the Pegasus Yearbook. On its front cover are members of The Parachute Regiment in August 2021 during Operation Pitting and the evacuation from Hamid Karzai International Airport, Kabul, Afghanistan. The piece I wrote is reprinted with the Journal's permission below.
Reg was just 20 years old in June 1941 when the photograph above left was taken. He was then a member of the 11th Special Air Service Battalion, Britain's first battalion of paratroopers, soon to be renamed the 1st Parachute Battalion, leading to the formation of The Parachute Regiment.
By the time Reg's article 'I am a Red Devil' appeared in the Empire News in 1943, two years after the photograph was taken, three quarters of his original battalion had been lost in Tunisia and Sicily, and this was before The Battle of Arnhem in 1944, when their ranks would be reduced still further. The scale of such loss is hard to comprehend.
After living through these unimaginable events it can be no wonder that Reg spent the next 70 years remembering his friends and comrades. His way was to write it down and share their story, which he continued to do until The Memory Endures was first published in 2014.
This year Reg was posthumously awarded The Chairman's Medal by Lieutenant General Sir John Lorimer, former Colonel Commandant of The Parachute Regiment and Chairman of Support Our Paras. The award is for 'Achievement Above and Beyond' in recognition of Reg's continuing fundraising for Support Our Paras through sales of his book, the proceeds of which he bequeathed in perpetuity to the Charity.

Our family publish The Memory Endures in Reg's memory, with all profits donated on his behalf to Support Our Paras. It is a privilege to have played a part in the preparation of this book. To be associated with Reg Curtis and in a small way those who served with him is an honour. Their presence is humbling.
To view an enlarged version of the below article as a PDF just click here.
To subscribe to Pegasus: https://supportourparas.org/pegasusjournal